Please select the item(s) which you would like to purchase and click "Add to Cart".
Select the country you want to ship the items to then shipping method options will be shown. Please select your preferred shipping method. The shipping method of some items is fixed and cannot be changed. The total price, including the shipping fee, will be updated. If you agree with the price, click "NEXT".
Please enter your Shipping address and Billing address. Choose your payment method from Bank Transfer / Paypal / Credit Card.
Bank Transfer: We will send you a Proforma Invoice (PI) by email. Please make bank transfer according to PI and send us the Telegraphic Transfer Copy via email within 2 business days (48hours) otherwise your reservation will expire. Bank charges from your bank are not included in the total cost quoted to you. All customers are responsible for paying their bank charges.
Paypal: You will be connected to Paypal website. Your order will be placed on completing the Paypal payment.
Credit Card: Please enter the details of your credit card and place your order.
As soon as we confirm your payment, we will send you a payment confirmation email.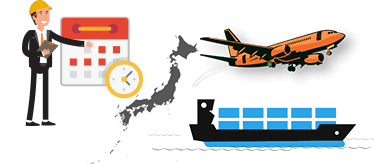 We will inform you of the shipping schedule by email.
Air freight: Tracking number for your purchased item(s).
Sea freight: ETD (Estimate Time of Departure) & ETA (Estimate Time of Arrival) of your purchased item(s).
Receive your item(s).
Air freight: The item(s) will be delivered to your requested address.
Sea freight: Receive your item(s) at the agreed destination.